The Ninth Arrest
by Barth Anderson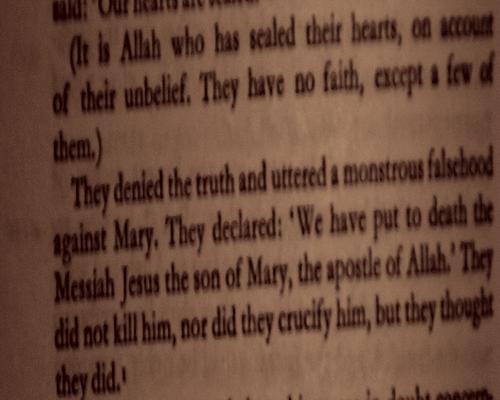 You made a terrible mistake and now you're paying for it. Blood pours down your face from a stabbing crown. Nails have fixed your palms to a hand-hewn beam. Somewhere in the amber heat, a man shouts your name. Is that Judas coming to save you? No. Once the Roman governor flogs and condemns you, you always go to the cross. Not even Judas can stop it.
"It is useless," you say finally and let your head drop to your chest.
Darkness. Then more darkness.
You lift your head again and take a sharp breath of fear at the sight of servants drawing back curtains to reveal a desert at dusk. Cut branches with nubs of green-gold dates hang in the doorways, and your twelve students relax on wine-colored divans beneath merry oil lamps. You're back in the house of Lazarus - the man who died and came back to life. You came to Lazarus' house after entering Jerusalem in triumph and now you have relived this scene six times total. Passover is in five days and so is the brutal arrest -- and the horror that follows.
You massage your right palm with your thumb, remembering a hammer striking a nail. The world is broken, you realize, and it's your fault. "Judas?"
Judas sits at Lazarus's desk, transcribing the Book of Zechariah into common Aramaic for the sixth time. You gave him the Scriptures yourself, hoping Judas would discover the story of the Messiah hidden there. Judas looks up, stylus raised, "What is it, Master?"
In the next room, you remember, Magdalene is receiving a gift from the wealthy and risen Lazarus. She will bring the gift to you, and the students will argue about it. You say, "I have a lesson for you and you alone, Judas. Explain what happens here."
You lift your hand and the sad but graceful Magdalene enters the dining hall carrying her silver tray of cruets and crystal decanters. Myrrh. Rosemary. Olive oil. Your disciples stop playing backgammon in order to smell the passing tray.
"You're tired, rabbi," Magdalene says. "Let me take care of you."
You lift the hem of your robe and lie back in the scarlet pillows of the divan. Mary sits at your feet, washing your calves and the muscles of your dark thighs.
"I've never seen so much expensive oil used on one person before," says Judas, setting down his stylus.
Mary combs your gnarled hair straight. "Should the rabbi refuse a gift from Lazarus?" she says in her sharpest voice.
"Mary," you warn.
Peter stands abruptly, banging against his brother, Andrew. He scowls at Judas. "Is there a problem, rabbi?"
Ignoring the oafish Peter, you ask, eyes shut, "Why does Lazarus have such expensive oils in his house, Judas?"
Judas lowers his voice, speaks as though frightened. "Well, you raised Lazarus from his grave. They -"
"The master deserves them, Judas," says Peter, finally realizing that a lesson, not an argument, is taking place. In Peter's defense, you often blur the distinction. "Today, the rabbi entered the holy city on his colt. Everyone knows what that symbol means. These blessed oils are a christening for the Messiah."
You flinch at the word. You flinch because you know it's your own fault that Peter says such nonsense. You rise from the divan and your brown face shines, beads of oil glittering in your curly, black beard. You whisper, "Do you know what these oils are for, Judas?"
Judas doesn't sound as elated as Peter when he says, "I know they're for a funeral. But not Lazarus'."
Your best student really knows, he must, this seventh time through these mad events. He has to. He used to kill christs for a living. "Come, Judas. I have a lesson I want to give you."
Peter and the others watch you stand and leave Lazarus's hall with the former assassin. As you lead Judas into the vineyard and look down on the village of Bethany in the outskirts of Jerusalem, you pull up your hood. You were born and raised in the wild outback of Roman Palestine, so you hate the idea of anyone seeing you slathered in fine oil. "I have a special lesson for you, Judas."
Judas rubs his head. His hair is still growing out from his days as a member of the violent Sicarii. "This lesson," asks Judas, "is about the Messiah's Story, isn't it?"
"You found it in the scriptures then? I'm not surprised. Tell it to me."
Judas looks at the moon like he's checking a calendar. "If you are right, the Messiah's time has finally come. After his Baptism and Trial with Satan, the Messiah rides into Jerusalem on a colt and destroys the Temple."
Judas, sharp as always, has the basics of the story. You urge him on with a nod.
"According to Zechariah, the Liberator will be betrayed by one who dines with him," Judas continues quietly, "a confidante."
"Betrayed?" you prompt, quibbling with his Aramaic translation.
"Well, literally, 'handed over.'"
You close your eyes, impressed and grateful for Judas. "Go on."
"Zechariah prophesied that the Liberator will be arrested and tried before a king of this world. Then the Liberator is put to death. Something horrible involving nails." Judas stops with a catch in his voice. "You asked for a colt this morning when we rode into Jerusalem."
"Yes, I did." You close your eyes in regret. Then you pull back Judas's hood and kiss him on the cheek.
Judas grabs you and holds you in his arms. "No one will betray you. Didn't you hear crowds today? They saw the Liberator riding into Jerusalem."
"I'm doomed, friend. We can't change that." After losing consciousness on the cross, you continually return to Lazarus' home, after the parade through the crowds of Jerusalem, thousands chanting Hosanna, Messiah! Welcome, Liberator. Entering Jerusalem was a glorious moment, as Peter said, but you have come to hate it, because it stands as evidence of your lost self. You thought the image of a poor, backwater Nazarene riding a colt into Jerusalem would ignite the jaded population's imagination, get them thronging to your sermon to the capital. You were all too correct – what else were Jerusalem's citizens to think of a rabble-rouser riding into town on a colt, except that you intended to rally your people against Rome? Fool, you scold yourself. That's the opposite message of the one you delivered at the Mount of Olives.
Nails drive through your memory. It's coming. Again. You can't escape it without Judas' help. "The world is broken because of me."
Judas squints at you. "Are you the Messiah? Have you come to liberate Palestine or not, rabbi?"
To Judas, and all of Jerusalem today, Messiah means sweeping revolution and war against the occupying foreign army, not forgiveness, nor peace and enlightenment. You brought those words home from your years meditating with Eastern wise men beside that calm lake in Kashmir, and you wish you could show Judas that a corrupt, cruel Empire has no power over Palestine, the Jews, or Judas himself. But that requires a mind unshackled from millennia of persecution, and you've shackled your students by using the word Messiah. You arrogantly rode that colt and accepted the Liberator's welcome. Now the world is broken because of you.
"Master," Judas says, "the Sicarii paid me to poison Lazarus because he was telling everyone that you're the Messiah. After I killed him, I was terrified when you confronted me in the Bethany fruit market. If you are not the Messiah, then how did you know I was the one who killed Lazarus?"
The ghost of Elijah the Prophet once came to you as a sheet of flame while you meditated in the desert. His light threw your shadow backward into time for Zechariah and other prophets to see. Elijah told you, You must learn and teach the lesson in Zechariah, the lesson of death. It's a lesson for bold hearts only. Choose your students carefully. Only one of them will redeem you. You peer at Judas as if he were a bright light streaking out of darkness. "I knew it before I ever met you."
"The Sicarii asked me to kill you, too," Judas says. "But when you walked out of the tomb behind the man I poisoned, you saved me from that wicked life."
"You chose, I didn't choose it for you," you say. "When I tell you the parable of the prodigal son, am I only talking about a wayward boy coming home?"
Judas lightens the moment with his evil grin. "I always thought you were talking about me when you told that story."
Your heart flows with excitement. Perhaps Judas is closer to understanding himself than you realize. "Instead of a prophecy, maybe Zechariah's story is like one of my parables, Judas."
"So you think Zechariah refers to just anyone?" Judas scoffs. "You think everyone is the Messiah?"
You wait to see that streaking light of understanding in Judas' eyes. But it isn't there. All you see is your own blunt and blocked future. Are the cosmos permanently broken, you wonder, or it just you and your mind that have been thrown into chaos? Do you alone see the world repeating itself, like a madman stuttering? You may never know. You may repeatedly live these seven days, again and again, until your whole experience is your body sagging away from your tied and nailed hands. You hope that it can be set right if you can reach just one of your students. This one. Your nostrils flare in anticipation. "If you want to understand what Zechariah is really saying, I think you must be the one to hand me over, Judas."
Judas snorts and his voice drips in contempt. "What? I have to betray you so I can become the Messiah?"
Your hands are spread as if you will catch Judas midair. "Yes, Judas."
"Then what's supposed to happen?" Judas continues, his arms folded into a posture of scorn. "Then as betrayer and Messiah, I must hand myself in? How does this help Palestine? Your parables usually make more sense than this, rabbi."
Your moment of hope darkens. The waxing moon has risen, you notice. The march to the cross is one day closer.
"Please tell me who you are. Isaiah? Elijah? Moses?" says Judas, breathless, a sheen of moisture on his chest.
You have been too obtuse, too desperate, you realize. "It is useless," you say, turning back to Lazarus' manor, garlands of red bougainvillea trailing over trellises. "I point to the sky to show you the sun, but you stare at my upraised hand."
Passover starts in five days. Tomorrow, you will go to the Temple in Jerusalem and force the foreign currency-changers and merchants from that once holy house. Judas does hand you over, but only because he stopped believing you were the Messiah and hated you for lying to him. The Arrest comes as it has six times before. Then the Trial before the Roman, where you are whipped and beaten by his soldiers. Then the nails. And the thorns. And the cross.
Darkness. Then more darkness.
The earthy smell of greens cooking fills this wide, upper room.
"Why is this night different from all other nights, rabbi?" asks Magdalene's son, Johanen.
You face him, shaken and relieved, now that your body is whole again.
Johanen is four, a curious, searching mind, and you treat him like your own son. As the youngest attending the dinner, Johanen asks the Four Questions of Passover, and you, the rabbi, answer each in turn. Chuza, Susanna, Magdalene and your mother - the same women who continually walk beside the soldiers in the Crucifixion detail - bring unleavened bread in baskets and set them around the low tables.
Your students found this room in which to hide tonight, paid the landlord to keep quiet when he recognized your famous face. You scattered the Persian figs, Egyptian kumquats, and foreign currency of the occupier all over the floor of the Holy Temple yesterday; now there are Roman spies scurrying through the streets, paying for news and listening for rumor of the Insurrectionist's whereabouts.
Eleven of the students eat heartily, but neither Judas nor you can stomach anything. You have only hours to reach him this time, you realize. Soon there will be no returning to these quiet moments - Lazarus' house, walking Jerusalem's streets with your students, or this secret, upper room. Soon, you will relive every step up that steep hill to the crucifixion. Every hammer strike. Over and over. Forever.
After the Four Questions are asked and answered, and after you tell the story of the Jews' liberation from Egypt, you say, "Someone shut the door, please."
An awkward pause ambles about the room. "Rabbi," says Andrew. "Shall we not leave that door open -"
"- to welcome the Redeemer if he finally comes? No. Tonight it remains shut." You set Johannen on the floor next to you and give him a pillow for his back. You say, "Tonight, I must reveal all my secrets because the end is soon. Hours away. And before it comes, you must all know who I am."
Peter says, "But we already know who you are, rabbi."
You smile at him, wan, bemused. Peter has the imagination of a rock. "And who am I, Peter?"
"You are the Messiah. You rode into Jerusalem on that colt four days ago, and the whole city saw you. The Romans, too. In your sermon in the temple, you wanted the governor to know that Rome's coins are not welcome here. The Empire's reign over us is finished."
You stroke your beard and say, dry as ashes, "That's right, Peter."
The students breathe a sigh of relief. Prayers are mumbled in thanks. Bearded faces lift upward.
Judas stares in confusion at you. Does he guess what you mean, this seventh pass through the lesson? Does he think you are blaspheming? Or that you are the Redeemer?
The politicking Zealot, Simon, looks at the shut door and says, "How must we begin the revolt? We're ready. I've waited my whole life for your arrival, Master."
"Then you have waited for the wrong man," you say, just as dry as before, "for I am not the Messiah."
The prayers cease. Eleven students looked betrayed. "But you said you are the son of the Father," Peter says, shaking his head in irritation. "You call yourself that all the time. What else could you mean but - ?"
"Haven't you determined yet that each of you is the son of the Father?" you say. "This is why you must love one another. This is why you mustn't limit your compassion for anyone."
Philip, his eyes brimming with tears, says, "Can't you just make it plain so that we can see with our own eyes?"
"What more can I show you?" Your face and ears feel hot. "The Messiah's liberation and power are yours if you choose them."
"Power?" Peter says cautiously, "You mean God, correct?"
This is all that these thick-headed fishermen can imagine when they think of god, and you can't hide your contempt for them anymore. "Yes, God and Elijah! Moses! Demons and angels and miracles! Why can't one of you see it, when I've been showing it to you for three years?"
"But you said when we came to Jerusalem, we would tear down the Temple," says the Zealot. "What are we supposed to think except that you mean to drive the invader from our lands?"
"Is liberation just a political debate for you? How many times have I had this argument?" you cry to the ceiling, on the verge of crazed laughter. "How many more times do I have to say these words until one of you listens to what I'm really saying?" You stare at Judas, who knows the Messiah's story better than anyone. "All I need is one of you."
"It's me. I'm listening. I am," says Peter, utterly sincere.
You laugh and shake your head. "Then tell me what I'm saying, you rock."
"You are looking for a lieutenant - to rule when you're away - from your Heavenly Kingdom. Simply choose, rabbi. Which of us will sit at your right hand in heaven?"
Eleven men lean forward, hungry for the answer.
You stretch back against the rough stone wall, head in your hands. Mary kneels next to you stroking your hair, watching you with concern. You lift your head and scowl at Judas. Your eyes burn. "I am the Messiah. I am not the Messiah. I am the Messiah. I am not the Messiah."
Half the students try to puzzle your meaning, the other half looks at you as if you're insane.
You resign yourself to your horrific, inevitable ending. Jaded and tired, you say, "The High Council is waiting for the one who will hand me over. Tonight, one of you will turn me in to the Pharisees' police."
The disciples scramble to stand up, as if soldiers were trunching up the steps. "What? Who, rabbi? Which of us?"
"Why?" says Judas with incredulous anger. "Why must one of us hand you over?"
"We all look alike to them," you say. "It must be someone who they know is a friend of mine. One of my students."
This long, airy room suddenly feels humid and cramped. Peter shouts, "If you know who it is, say! I'll kill him for you!"
"Let's find out who it is," you say. "For only one of you is strong enough to learn the lesson that accompanies the deed." You take a small circle of matzo and break it, then you dip it in the bitter greens and salt water. "It's a foul bite, not for the weak." You hold it over the low table. Everyone at the supper stands perfectly still, frightened of you. When no one moves, your hand trembles. The thirty-nine lashes. The mailed fists of the crucifixion team. Your own sweat stinging in your wounds. Will it happen an eighth time? You bow your head, bread offered to the air.
Finally Judas rises. He stands in front of you across the low table, then he kneels. He bites the salty mustard greens and matzo from your hand, kissing your fingertips as he does.
You lift your head. You watch Judas eat. Can it be that he finally understands?
"You!" says Peter.
Judas swallows the greens and bread. "I do it because you are the Messiah. This city is at your disposal, rabbi. Rally us, and Jerusalem will rise up."
"The world is a sewer of lies," you say. You pick up the bowl of wine that had been set aside, as tradition dictates, for Elijah. You drink from it, then hand it to Judas. You've given up hope that he can become like you. While Judas gulps down wine, you say, "You know the Story. Go and do what you must do."
"Assassin! You don't deserve to be at the master's Passover!" says Peter, rising, jostling those next to him. "You don't deserve to drink from that cup!"
Judas gets to his feet unsteadily and then runs downstairs.
You leap over the low table and hold Peter fast until you no longer hear Judas' footsteps.
"You can't let him go!" Peter struggles in your embrace, though you know he could flatten you if he wanted. Peter stops fighting and lets you hold him. He lifts his wet eyes. "How could you let this happen, rabbi?"
"I can't stop this, Peter, and neither can you," you say. "Only Judas can."
Peter relaxes, confused, but he trusts you like a loyal herd dog trusts his master. Some of the other students stand. Some sit with hands covering their faces. Only Magdalene and Johanen look you in the eye with anything like kindness.
The Arrest comes later that night. Then an eighth brutal whipping, and an eighth execution.
Then darkness. And more darkness.
"It's useless," you are praying.
You have walked out of the Passover celebration after the disciples argued about who would be your right hand man in Heaven, as they always do. Judas took the bait you offered him. When he drinks from Elijah's cup, it always looks as if Judas might understand you and what the Messiah is, but after eight times through, you know it's heat lightning, not a true stroke of enlightenment. The next time through your march to the cross will be your last. After that, you will spend eternity having nails driven into your hands.
Alone in a silent glen, you meditate sitting cross-legged as you did in the desert when the shaitan came to distract you, as you did with the monks in the mountains of Kashmir, when enlightenment and compassion blossomed in your heart. Your mind empties into one final moment of peace and total happiness.
You look up when you hear armor clattering and scabbards smacking against legs. The soldiers have come. They're just beyond the hedge. Your students, sleepy from the Passover meal, are snoring on the lawns of Gethsemane Garden. You stand, because next, Judas will walk through the gate in front of you.
But from behind you, you hear footsteps.
This is new.
You turn and see a hooded man approaching from the direction of the house where you ate your eighth Passover meal. If it is Judas, he wears a different robe for this ninth Arrest. You see that the robe is yours, a fine white linen one given to you by the extravagant Lazarus. "Rabbi," comes Judas' quiet voice from beneath the hood. "The Romans are beyond that hedge of olive trees by the Gethsemane gate. They want me to kiss the insurrectionist, to point you out." He sounds almost happy. Confident. Why not? Judas obviously thinks he's lighting the fuse on his glorious revolution.
You say, "Let's get this over with. I'm ready."
Judas stands several paces from you. His hood turns in the direction of the sleeping students for a moment. "This is the hardest thing I've ever had to do, rabbi."
You keep your hood up, a moment more of anonymity before the public glare of the trial begins. "Bless you and protect you forever and ever for doing this, Judas."
Judas opens his arms.
You step into the older man's embrace.
Judas pulls his own hood back. You crane your head away, trying to get a better look at him in the dark. He doesn't have the short-cropped hair of a Secarii assassin anymore. He has a long, dark beard and the gnarled mane of a holy man. His face is dark from many weeks of meditating and teaching in the desert sun.
Judas looks exactly like you.
"Master," says Judas.
In wonder, you say, "What has happened?"
Judas smiles with your straight, white teeth. "As Moses once said, I have been to the mountain top."
You see a light in Judas' eyes - a streak, a burn. More, you feel a peace in Judas, something you have felt in no living man since leaving the tranquil ascetics of Kashmir. "You've had an interesting evening." You exhale the words in amazement. "Have I finally been heard?"
"It happened tonight when I drank from Elijah's cup. Me. An assassin. I realized that since you saved me from that life, I should save you, rabbi. That's what your teaching was all about, right? And so I will. I'll save you." Judas keeps beaming those bright eyes into yours. "Your wish has been answered. My mind has been liberated," he says, "and you are free at last, Nazarene."
"What?"
"Messiah, I am the Messiah," says Judas with his wry, trickster's grin, "so I'll walk the rest of the way from here for you. Now kiss me one last time before I go."
You want to ask questions, congratulate him, pray. Instead, you embrace Judas and kiss him as hard as you can. "You can't do this," you say, lips pressed against his cheek. "You have no idea what -"
Bright, yellow light fills the glade as the soldiers decant their lanterns. "Joshua of Nazareth," comes a Roman accent from behind the light, "you are surrounded and outnumbered. Step away from your betrayer."
You and Judas step away from one another.
A mob of soldiers scramble into the glade separating the sleeping students from you and Judas. Two large Romans seize Judas and pin his arms behind his back. He cries out, twisting in their grip. A soldier shoves you back hard and you land on your behind, sandals in the air. The soldier leans over you, his face filling your vision like another moon. "You kissed the criminal for us. Well done." He jabs a stubby finger at your nose. "Now stay out of this."
You reach up to push your hair out of your eyes. But it is just stubble now, the shorn hair of a former Secarii.
"You are Joshua . . . no, wait -" the captain reads from a scroll, "Jesus of Nazareth who claims to be the King of the Jews?"
Judas says, "Those are your words. I have never called myself a king."
The captain rolls up his scroll, places it neatly in its sheath at his waist, then slugs Judas in the face.
Judas falls back into the arms of the Romans, laughing, blood from his broken nose dripping into his mouth.
So it begins for Judas.
And so it ends for you. You watch Judas as the Romans tie him and drag him away. "Hosanna!" you cry, but the gang of soldiers drinks Judas up and you can't see him anymore. You watch the armored backs of the soldiers as they march swiftly to their garrison. You call after your greatest student, "Hosanna, Messiah!"
Then you throw back your head and laugh harder than you have ever laughed before, while overhead the universe spills its stars for you.
Copyright © Barth Anderson 2004
Photo Copyright © Eric Marin 2004
About the Author:
Barth Anderson's short stories and articles have appeared in venues ranging from
Asimov's
,
Strange Horizons
, and
Mojo Conjure Stories
to
The Cooperative Business Journal
,
Rain Taxi
, and
Sideshow
at
The Modern Word
. His short stories have been honorably mentioned in
The Year's Best Fantasy and Horror,
and his story "Lark Till Dawn, Princess" recently won the Spectrum Award for best short fiction.
Lone Star Stories * Speculative Fiction and Poetry * Copyright © 2003-2004