Strange Pageantry
by Jenn Reese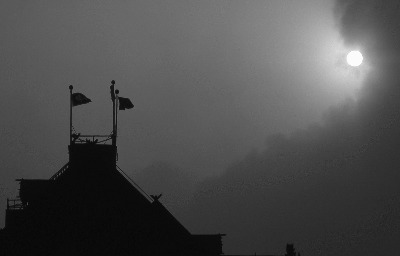 The aborigines of Totantaleet are first,
jittery avian nerves fluttering their
high headdresses of brittle feathers and hollowed
bones, now
just ceremonial
they must bow when entering the low stadium arch, a
calculated response. And next

the limping remains of the amphibious Baandoi Pan,
umbrellas shielding them from the marigold sun and
reminding them they do not
belong. And then

flags only, oddly bright, from
six races gone forever.

The parade marches to much applause, and from the stands
catcalls and jeers mixed with the smell roasting meat
replete in acrid spices that bring tears
to our eyes. Theirs is the promise of a dominant future at the
center of it all.

The day ebbs and our turn comes, last,
their most recent acquisition. We hold our
mandibles high and clutch our conversations to ourselves and dream
of freedom,
of a day
when we are only
a flag.


About the Author:
Jenn Reese has published stories in cool places like Polyphony 4, Flytrap, Strange Horizons, and various anthologies. She currently lives in Los Angeles, where she practices martial arts, plays strategy games, and sits in traffic. You can follow her adventures at her website. This is her first poetry appearance.
Poem © 2006 Jenn Reese.